Six undiscovered secrets of Ljubljana 17 noviembre, 2012
Posted by jmorsa in En English, Entretenimiento, EVS.
trackback
Long time that I don´t have written anything in English but isn't blame of time but of laziness. The thing is that after one day talking only in English; when I come home don´t want to write in English too.
For this reason, today I have decided to make an effort and to told you about six things that you can to do in Ljubljana completely, or almost free; or rather "Six undiscovered secrets of Ljubljana", because for any person that come to Ljubljana from one big city, can thing that here, aside festivals like the Ana Desetnica –a kind of Street theatre festival in July-, or Medieval Days in September etc there aren´t more free things. For this, I wanted to create this post to present you those things that I have discovered in the few time that I´m living here:
#1. Pot ob žici (Wire Path Walk).
During the WW2, in 1941, Ljubljana was the only city in Europe, which was encircled by a barbed wire of 33 kilometers and for this reason had a status of a city concentration camp. The reason of this barbarity was the fact, that Ljubljana had one of the best resistance movements in Europe and the Nazis were never able to find and uncover it.
Now and after to pave and mark with signposts, maps, copper emblem markers -with the word "POT"- and memorials in 1985, the people walk for this "new" road with their pets, run and make sport, or drinking a morning coffee -even when snows the people use it as country ski trails- and each 9 of May -when Ljubljana was liberated in 1945- for the memory of those dreadful times, everybody walk and if they visit the 8 checkpoints along the way are rewarded with a memorial badge and a medal. I recommend doing it at any time because; why do you need to go with everyone? ;¬).
#2. Žale Ljubljana (Cemetery of Ljubljana).
Although it seems something strong, Zale -an old Slavic word for cemetery- was founded in 1906 and built by several architects like Edvard Ravnikar, France in Tone Kralj, Ivan Vurnik, Marko Marušič… and guess who? Plecnik -if you live or have staid in Ljubljana and don´t meet Plecnik don´t talk me, haha- measuring 375.000 m² and about 150.000 people are buried. Plecnik aside, the importance of the cemetery also lies in the tombs of notable Slovenians like Fran Albreht -author, editor and politician-, Davorin Jenko -composer, author of the music for the Serbian national anthem-, Angela Vode -politician, author, feminist activist- where ok, it possible that you don't meet them but this is a different form to meet them.
Aside, as curiosity you can check where are the tombs of this entire people in the official website, one machine near of the main access to cemetery, and even know about them in the wikipedia page of Žale (http://en.wikipedia.org/wiki/%C5%BDale).
For the lovers of history and war, you have one place where you can see one Italian military cemetery and one Ossuary of the victims of WW1 built in 1939, where rest 5258 victims of this tragedy as well as of the associated conflicts were later buried.
#3. Hologram Evrope (Hologram of Europe).
On the way from the station to park Tivoli, where Dunajska street intersect with Tivolska street, there are 27 stone pillars to way "stonehenge" dedicated to the Member States of  the European Union and 6 additional stones for those countries that are not members. If you like the idea to get lose between tombs, why not between stone pillars?
This "supposed" masterpiece of Marko Pogacnik and VITAAA group represent as a vital and energetic composed of four circles; "in the inner circle are land-related elemental level of life, in the second round of the country found that the interaction with the emotional qualities of space, in the third round standing stones to countries that are home to a spiritual level. The fourth round is intended for non-members", but according to the author "co-creators of the European Union". Since when is "co-creator of the European Union" Turkey? And Russian plain? I don´t know; only I write the information that you can see in their website. Aside to this data, it´s interesting to lose a little of your time discovering where is your country, its place and form and even its meaning; countries as Spain means such strange things as the "Dance transformation allows coexistence of opposing forces of Europe" or even the called "geopunkturnih circles"; which "purpose is to touch the earth at various sensitive points around the world to revitalize communication between humanity and consciousness of the Earth" where you can find "geopunkturnih" like Ljubljana –of course- or in Portugal, Tamera.
#4. Šmarna gora (Lady Mountain).
Located in the northern part of Ljubljana, is the highest hill of the city or rather the hills, because there are two peaks; "Šmarna Gora" and "Grmada" of 669 and 676 meters respectively.
It was called "Mons Cetius" by the Romans, and there are more than 50 ways to climb to the peak .The most popular is the "Pot iz Tacna" -Tacna way- accessible from the bus stop "Tacen" (bus nº 8), the second bus stop after to cross the bridge over the Sava river. From here to the peak is about 30 to 40 minutes of walking -for example when I went, I took the "Partizanska pot", the partisan way begins in the same place but it was getting complicated while I was climbing. The reason for this is that the partisan way was created during the WW2 and is a very steep climb usually used by partisan couriers-.
On the top of hill are one interesting late Gothic church and their bells that have a lot of stories. For example, there is one bell that everybody -when they up to the top- ring as sign of good luck and if you ring it  with the teeth, the problems that you have in your mouth disappear -I did it too :¬)-.
#5. Ljubljana muzejev (Ljubljana museums).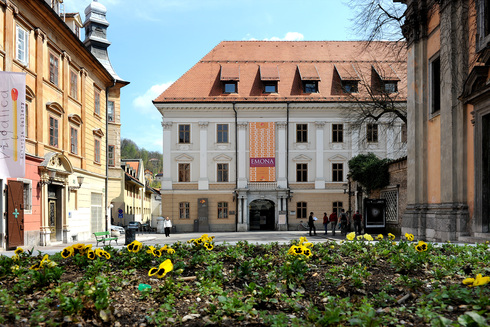 As every important city, Ljubljana has its museums too, but not always are free and neither every museums have free days, haha.  For this reason if you will stay a lot of time in this country, my advice is to see them step by step and choosing the free days.
Almost all the museums has one day per year that open their door to the public that in Europe is the 18 of May, but usually each week o as this case each month, they open their door to the public too -the pity is that here, almost all the museums open their door totally free the same days-.
Then, we can summarize that the museums that have free entrance the first Sunday of each month are:
–          Narodni musej slovenje – Metelkova (National Museum of Slovenia – Metelkova): http://www.nms.si/
–          Muzej novejše zgodovina slovenije (National Museum of Contemporary History of Slovenia): http://www.muzej-nz.si/  ✔
–          Prirodoslovni muzej slovenije (National Museum of Natural Science, scientific, and educational contents): http://www2.pms-lj.si/  ✔
–          Narodna galerija (National Gallery): http://www.ng-slo.si/  ✔
–          Moderna galerija (Modern Gallery): http://www.mg-lj.si/
And now the exceptions:
–          Pivovarski muzej (Beer Museum): free every first Tuesday of the month http://www.pivo-union.si/si/intro   ✔
–          Slovenski etnografski muzej (Ethnographic Museum): free every last Sunday of the month http://www.etno-muzej.si/   ✔
✔ = visited by me
#6. Nutrije in race na Ljubljanici (Otters and ducks on Ljubljanica).
Among the fish species, birds and mammals and aside of 3 endemic species of snails that you can find in Ljubljana, in the neighborhood of Moste very near of Fužine Grad -Fužine castle- where you can go by bus number 20 and get off at the final station, one big surprise to the riverside; Nutrias (Myocastor coypus) and the very endangered otter (Lutra Lutra).
Never I thought that I'd see wild otters, which would be things of nature documents on TV but here, it seems to be the most normal thing of the world because the people as if the otters were ducks, go in droves where there are food but they don´t eat cornflakes -I already tried it :¬)-
A place very familiar were you not only can see otters and give them food but also to see a part of Ljubljana quite unknown, Fužine castle -a mansion that has kept its Renaissance character and where has previously been a glass and a paper factory, now is the Museum of Architecture and Design of Ljubljana- and one old water wind of which only ruins remain.
At finish, as I said before, these are the secrets that I discovered in the few time that I´m living here, I would like to speak about the summer library in Tivoli park –but it´s only on summer- or the bowling center -but it´s not "Typical" of this city and I think that you can find one bowling center in any place- but… And you?  What other things do you know in Ljubljana for free or almost free? Well, then you know! You can comment and share -and if you go to this places thank to this post, tell me too haha-.
Nasvidenje!